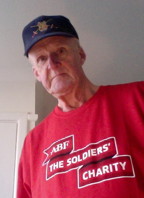 Denis Huxley's Marathon in aid of the ABF

Denis Huxley announced his intention of running in the London Marathon to raise funds for ABF The Soldiers' Charity (
View the appeal page
)
Denis successfully completed the course. He writes:
Dear Sponsors and Friends,
Happy to report that i completed the Marathon in under my target time. I managed to cross the line in 6 h, 51 min and 50 sec. It was the most memorable of days. The 30 second silence to remember the victims of Boston was moving and perfectly observed. The supporting crowds were as good as adrenalin at keeping me mobile. Much shouting of encouragement and a multitude of high fives provided a much needed boost.
It is possible to see photos of me at various points on the course at
Virgin London Marathon Tracking and Results
Denis
P.S. THere is still time to make a donation on the
appeal page
---
Membership Directory
Online version of the Membership Directory. Use this to access the most recent updates of contact information.
>>Membership Directory
---
What is the Old Totnesian Society?
A group of people who went to the King Edward VI Grammar School Totnes, King Edward VI Community College, Totnes High School for Girls and Redworth Secondary Modern School and who wish to continue friendships, to arrange regular meetings, to receive news of former students and to maintain links with the College.
What does it do? How do I Join?
Kevicc today
Click on the logo to go to the Kevicc web site and bring yourself up-to-date with events at the college.
KEVICC Courier
The Autumn 2012 edition of the KEVICC Courier is now available.

This issue contains on page 31, an article by Barry Warren on the activities of the Old Totnesian Society.

This is a password-protected site
If you are an OTS member you will be asked for your password when you open another page.

If you are not a member and wish to join, please contact the Society through the Secretary bgjwarren@btinternet.com, the Treasurer davidsnr@btinternet.com or by sending an e-mail to office@oldtotnesians.com
Sample Pages
Non-members who would like a taste of the contents of the main site can view some representative
sample pages
These pages include the membership application page
A pdf file of the application form can be downloaded
here
Archives, Photo Archives and Announcements
Current and previous articles and pictures can be viewed in the archives and photoarchives respectively.
The History of King Edward VI Grammar School, Totnes
By: Thomas Kelly
The Foundation Governors have kindly agreed to publication of Kelly's "History" on this web site.